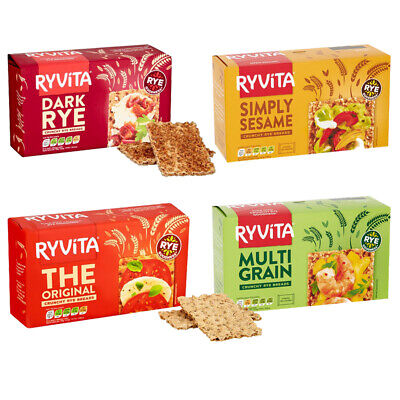 This page relates to Ryvita, Last updated Jan 2021. Every effort has been made to assess each Ryvita product individually.
Halal

All of Our Products With The Exception Of Our Three Cheese Thins Can Be Eaten By Vegetarians.

Crunchy Rye Breads

Dark Rye Crunchy Rye Breads
Multigrain Crunchy Rye Breads
Sesame Crunchy Rye Breads
Original Crunchy Rye Breads
Pumpkin Seed & Oat Crunchy Rye Breads
Cracked Black Pepper Crunchy Rye Breads
Sweet Onion Crunchy Rye Breads

Fruit Crunch

Fruit Crunch – Currants, Seeds & Oats

Protein Crunchy Rye Breads

Protein Chia Seed & Buckwheat
Protein Red Quinoa & Sesame
Protein Linseed & Nigella Seed

Thins

Rosemary And Sea Salt
Three Cheese Thins
Multi-Seed Thins
Caramelised Onion Thins
Cheddar And Cracked Black Pepper Thins
Sweet Chilli Thins

Crackerbread

Original Crackerbread
Wholegrain Crackerbread
Crackerbread Cheese Flavour
Crackerbread Pepper Flavour

Rye Cakes

Sweet & Salted Rye Cakes
Multigrain Rye Cakes
Lightly Salted Rye Cakes
Recipes may change so always check the ingredients on the pack.