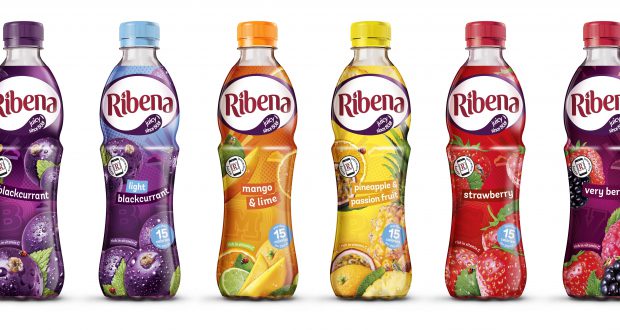 This page relates to Ribena, Last updated Nov 2020. Every effort has been made to assess each Ribena product individually. Ribena say:
All our products are suitable for vegetarian and vegan diets. We do not use any animal derived ingredients in our products and during the manufacturing process.

We do not add alcohol to our products as an ingredient, but there may be very low levels present in our products as alcohol is present as part of some of the flavourings used in our products. Alcohol is defined as ethyl alcohol or ethanol. We are advised by International Trade Federations that products cannot be claimed to be alcohol free as natural fruit flavours and fruit juices may contain naturally occurring alcohol.
The majority of scholars who discuss ethanol declare less than 1% in products where it occurs naturally is halal. This is because although some fermentation takes place, it's not the same as fermentation of dates and grapes, and the alcohol amount will not lead to intoxication. The beverage in question must not be made with the intention of being served as an alcoholic drink.
Many Muslims do have a varying opinion on ethanol, this largely revolves around a lack of research and understanding. You are free to exercise caution on these matters but TheHalalLife are happy to consider the consumption of the below Ribena products as halal.
Halal

Cartons

Strawberry
Blackcurrant
Pineapple & Passion Fruit

Ready to drink

Blackcurrant
Blackcurrant Light
Mango & Lime
Strawberry
Pineapple & Passion Fruit
Very Berry
Raspberry

Ribena Mini Bottles

Apple & Mango
Blackcurrant

Sparkling

Ribena Sparkling Blackcurrant
Ribena Sparkling Raspberry

Ribena Frusion

Kiwi
Blueberry
Lemon
Elderflower

Ribena Squash

Blackcurrant
Blackcurrant Light
Strawberry
Pineapple & Passion Fruit
Raspberry and Rhubarb

Ribena Cordials

Ribena Crisp Pear & Rose Fruit Cordial
Ribena White Peach & Hibiscus Fruit Cordial
Recipes may change so always check the ingredients on the pack.