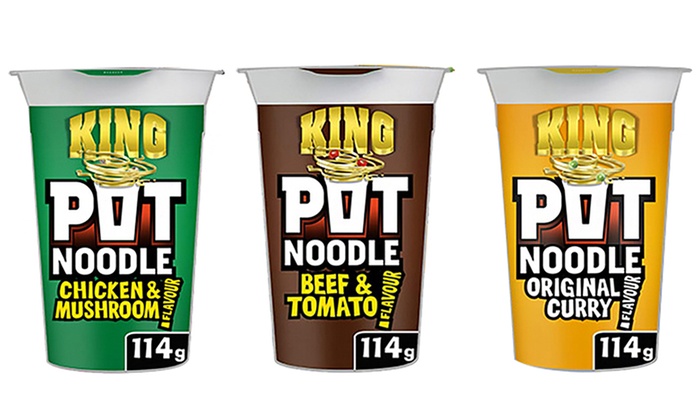 This page relates to Pot Noodle, Last updated Feb 2022. Every effort has been made to assess each Pot Noodle product individually.
The Pulled pork product is suitable for vegetarians, however please refer to the below article.
Halal

Pot Noodle

Pot Noodle Korma
Pot Noodle Sweet & Sour
Pot Noodle Original Curry
Pot Noodle Jerk Chicken
Pot Noodle Chow Mein
Pot Noodle King Bombay Bad Boy
Pot Noodle King Chow Mein
Pot Noodle Beef & Tomato
Pot Noodle 4-Pack Beef & Tomato
Pot Noodle Chicken & Mushroom
Pot Noodle Chicken Korma
Pot Noodle King Pulled Pork
Pot Noodle Sticky Rib
Pot Noodle Thai Green Curry
Pot Noodle Bombay Bad Boy
Pot Noodle King Sticky Rib
Pot Noodle Pulled Pork
Pot Noodle Piri Piri Chicken

Pot Pasta

Pot Pasta Tomatoey Mozzarella
Pot Pasta Macaroni Cheese
Pot Pasta Spicy Arrabbiata
Pot Pasta Cheesy Broccoli

Pot Rice

Fusions

Chilli Chicken
Thai Green Curry
Katsu Curry

Lost the POT

Lost the Pot CURRY
Lost the Pot ROAST CHICKEN
Lost the Pot SWEET CHILLI
Lost the Pot Vegetable
Lost the Pot Cheese and Tomato
Haram

Pot Pasta

Pot Pasta Beefy Bolognese
Pot Pasta Creamy Carbonara
Recipes may change so always check the ingredients on the pack.