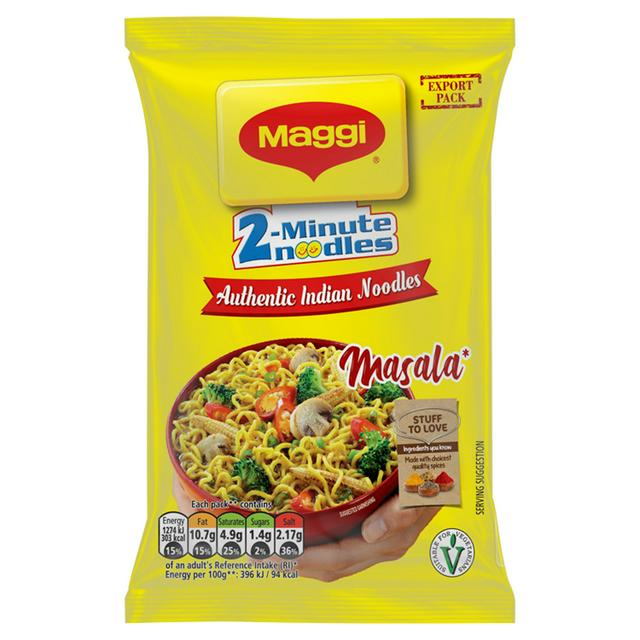 This page relates to Maggi, Last updated June 2020. Please be aware Maggi is an international brand and many products that aren't listed below are imported so we cannot compile a list. On the whole, most Maggi products do not contain any animal derivatives or ethanol.
Nestle confirm various ingredients are used around the world and there is an increasing number of importers of foreign nestle products in the UK. So they cannot guarantee your product is 100% suitable, you will need to check the pack to make sure it is a UK product.
Nestle produces a Suitable for Vegetarian list, so some information is based on the list they provide. All products on this list are free from meat, fish and their derivatives.
Every effort has been made to assess each Maggi product individually. The following are halal:
Halal

Mixes

Maggi® So Tender® Garlic Chicken Seasoning Mix
Maggi® So Tender® BBQ for Chicken
Maggi® So Tender® Italian Herbs Mix
Maggi® So Tender® Mediterranean Tomato Mix
Maggi® So Tender® Paprika Chicken Mix
Maggi® So Juicy® Cajun Recipe Mix
Maggi® So Juicy® Mediterranean Mix
Maggi® So Juicy® Tikka Masala Spice Mix
Maggi® So Juicy® Chicken Chasseur Mix
Maggi® So Juicy® Mexican Spice Mix
Maggi® So Juicy® Rustic Recipe Mix
Maggi® So Juicy® Thai Green Curry Mix
Maggi® So Juicy® Creamy Butter Chicken Mix
Maggi® So Juicy® Garlic Recipe Mix
Maggi® So Juicy® Italian Recipe Mix 37g
Maggi® So Juicy® Sweet Chilli Chicken Recipe Mix
Maggi® So Juicy® Mixed Herbs Mix
Maggi® So Juicy® Paprika Recipe Mix
Maggi® So Juicy® Smoky Piri Piri Recipe Mix
Maggi® So Juicy® Sticky BBQ Chicken Mix

Noodles

Maggi® 3 Minute Instant Noodles BBQ Beef Flavour
Maggi® 3 Minute Instant Noodles Chicken Flavour
Maggi® 3 Minute Curry Flavour Instant Noodles
Maggi® 3 Minute BBQ Noodles

Sauce

Maggi® 2 Minute Masala Spicy Noodles
Maggi® Authentic Indian Hot and Sweet Sauce
Maggi® Authentic Indian Masala Chilli Sauce
Maggi® Authentic Indian Tamarind Sauce
Maggi® Authentic Malaysian Chilli Sauce
Maggi® Authentic Malaysian Chilli Sauce with Garlic
Maggi® Authentic Malaysian Extra Hot Chilli Sauce
Maggi® Halal Chicken Flavored Bouillon
Maggi® Hot Liquid Seasoning
Maggi® Liquid Seasoning
Maggi® Mi 2 Minute Noodles Chicken Flavour
Maggi® Mi 2 Minute Chicken Flavour Noodles
Maggi® Rich Tomato Ketchup
Maggi® Seasoning Cube Tablets