This page relates to Haribos sweets, Last updated Feb 2022.
Most products contain pork gelatine and are therefore not halal. We use ethanol and ethyl alcohol in our production process as carrier for the flavouring, but this constitutes less than 0.05% of the recipe and is flashed off during the process and not present in the final product.

Here are a couple of images you can keep with use of their vegetarian list.

The Haribo Halal products are manufactured in Turkey and are imported direct into the UK. A large flash on the bag indicates that the product is Halal.

Haribos team
Every effort has been made to assess each Haribo product individually.
Halal

Haribos

Goldbears
Happy Cola
Happy Cherries
Fantasy Mix
Happy Cola Sour
Worms
Croco
Chamallows
Haribo Halal Soft Jelly Bear

As well as this, the following are confirmed suitable for vegetarians

Giant strawberries

Sour sparks
Star beams
Jelly beans
Funny Mix

Please continue to monitor the back of the pack.
Haram

Starmix
Tangfastics
Super Mix
Haribo Dummies Z!Ng
Haribo Little Jelly Men
Haribo Balla Stixx Strawberry
Haribo Balla Stixx Fizzy Cola
Haribo Balla Stixx Strawberry Gluten Free
Haribo Bear Buddies
Haribo Fruitilicious
Haribo Fairyland
Haribo Fruitilicious Multipack
Haribo Fruity Frogs Favourites
Haribo Funny Mix
Haribo Happy Cherries Z!Ng
Haribo Jelly Babies
Haribo Jelly Babies And Wine Gums Mixed Bag
Haribo Jelly Babies Double Trouble
Haribo Jelly Beans
Haribo Little Jelly Men
Haribo Milkshakes
Haribo Monsters Z!Ng
Haribo Rhubarb & Custard Z!Ng
Haribo Roulette
Haribo Tangfastics Stixx
Haribo Wine Gums
Haribo Yellow Bellies Minis
Haribo Smurfs
Haribo Squidglets
Haribo Squidgy Babies
Haribo Squidgy Strawbs
Haribo Starmix Multipack
Haribo Strawberry Softies
Haribo Supermix
Haribo Chamallows Mini Pink And White
Haribo Pontefract Cakes
Haribo Egg Galore.
Recipes may change so always check the ingredients on the pack.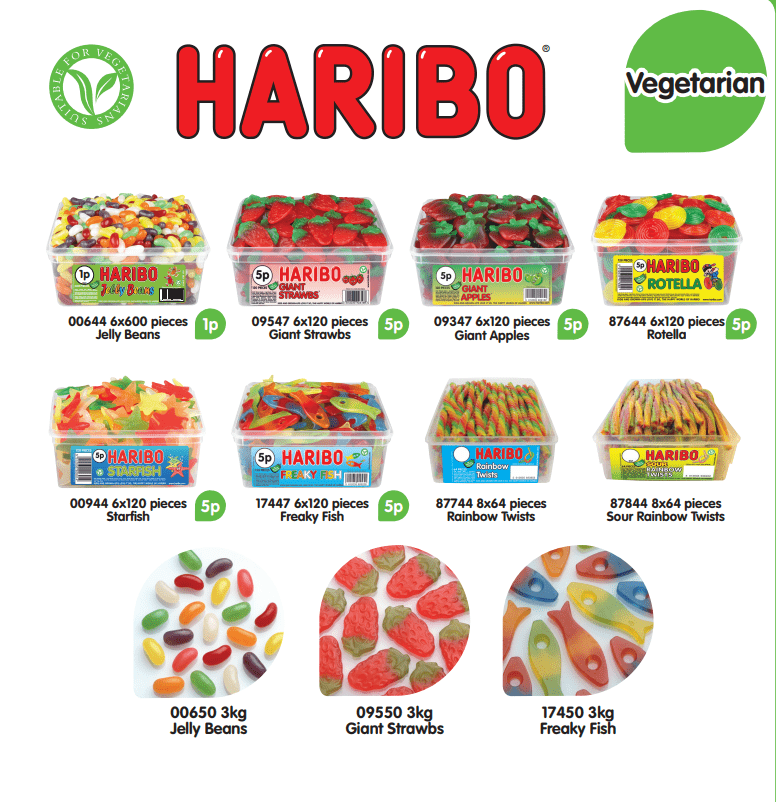 Recipes may change so always check the ingredients on the pack.